延年城际酒店共配置高级客房317间套,装饰风格前卫时尚,格局缔造了开阔的休闲空间和视野,客房设计融入了新中式美学的雅致与气韵,现代都市景致尽收眼底,无论是商务出行还是休闲度假,全新的客房满足您崇尚自然舒适、享受现代智能的品质需求,让您在别致的优雅氛围中尊享安心惬意的现代时尚旅居体验。体贴入微、关怀备至、呵护有加的服务,是延年酒店一以贯之的的待客之道,这将为您的每一次入住增添一份温情满满的回忆。
The Yannian intercity hotel is equipped with 317 sets of superior rooms. The decoration style is avant-garde and fashionable. The pattern creates a broad leisure space and vision. The design of the rooms integrates the elegance and charm of the new Chinese aesthetics, and the modern urban scenery is panoramic. Whether it is business travel or leisure vacation, the new rooms meet your quality needs of advocating natural comfort and enjoying modern intelligence, Let you enjoy a comfortable modern fashionable living experience in a chic and elegant atmosphere. Considerate, considerate and caring services are the consistent hospitality of Yannian Hotel, which will add a warm memory to your every stay.
延年城际酒店客房宽敞而明亮,时尚且典雅。 客房设计色调自然柔和,实木与大理石装饰纹路完美相间,经典新中式几何线面构成轻奢优雅宁静空间,配备智能卫浴与延年梦幻之床,可谓商务休闲两相宜,惬意长沙之舒眠体验尽在此间。透过观景窗,繁华都市街区美丽景致尽收眼底,不远处长沙国际会展中心、高铁南站和磁浮列车呈现眼前——精彩人生,从今晚开始!
The rooms of Yannian intercity hotel are spacious and bright, fashionable and elegant. The design tone of the guest room is natural and soft, and the decorative lines of solid wood and marble are perfectly alternated. The classical new Chinese geometric lines and surfaces constitute a light luxurious, elegant and quiet space. Equipped with intelligent bathroom and a dream bed, it is suitable for business and leisure. The comfortable sleep experience of Changsha is here. Through the observation window, you can have a panoramic view of the bustling urban district. Changsha International Convention and Exhibition Center, South high speed railway station and maglev train are not far away——
Wonderful life, starting from tonight!

客房价目表 Room Tariff

房间类型 Room Type

门市价 Rate(RMB)

酬宾价
Best available rate

协议双早

协议单早

高级双床

1179

589

459

419

高级大床

1179

589

459

419

豪华双床

1279

639

479

439

行政双床

1379

689

539

499

行政大床

1379

689

539

499

亲子间

1499

749

599

559

娱乐套房

1579

789

619

579

行政套房

1699

849

659

619

城际套房

2399

1199

1029

989

以上房价包含精美自助早餐(限两人),房价变动,恕不另行通知。
The above room rates are inclusive delicate breakfast buffet and subject to change without prior notice.

| | |
| --- | --- |
| | Standard Amenities |
|   国内长途电话 |   DDD telephone |
|   国际长途电话 |   IDD telephone |
|   中央空调 |   Entral Air-conditioning |
|   数字卫星电视 |   Satellite Television |
|   24小时热水 |   24 hours hot water |
|   独立淋浴间 |   Independent shower |
|   多规格电源插座 |   Socket with different specifications |
|   迷你吧/小冰箱 |   Mini bar/refrigerator |
|   客房保险箱 |   In-room save |
|   可无线上网的公共区域 |   Public area with free wi-fi |
|   免费停车场 |   Free parking |
|   行李服务 |   Luggage Service |
|   贵重物品寄存 |   Valuables storage |
|   叫醒服务 |   Wake-up Service |
|   洗衣服务 |   Laundry service |
|   商务中心票务服务 |   Business/tickets center |
|   全天送餐服务 |   Room service |

 

多功能宴会厅 | Conference Room
酒店配备多功能宴会厅、会议厅,无论是新闻发布会、企业培训、商务宴会或私人宴会,超凡的宴会管家团队都能为您考虑周全,提供细致专业的宴会服务,为您的成功会务一路护航。
◆ 788平方米多功能会议室,随需应变,融会贯通
◆ 先进高清LED显示屏/高科技视听系统等全套专业会议设备
◆ 创意宴会定制与策划,从筹备到执行一站式服务省心又省力
The hotel is equipped with multi-functional banquet hall and conference hall. Whether it is a press conference, enterprise training, business banquet or private banquet, the extraordinary banquet Butler team can give you comprehensive consideration, provide meticulous and professional banquet services, and escort your successful conference.
◆ 788 square meters of multi-functional conference room, on demand, comprehensive.
◆ Advanced HD LED display / high-tech audio-visual system and other professional conference equipment.
◆ Creative banquet customization and planning, from preparation to implementation of one-stop service, saving time and effort.


 

延飨美食 | Catering
延飨美食是延年酒店集团旗下餐饮品牌,由名厨主理,秉持匠心精神,传承湘菜精华,并融合粤菜和淮阳菜经典,不断开拓创新,打造出了一系列脍炙人口的珍馐美馔,逐步沉淀了独特的美食文化。品味舌尖上的长沙,愿您齿颊留香,回味悠长!
酒店一楼设有荟享美食全日制餐厅,二楼设有17个延飨美食豪华包厢,装修环境精致,气度优雅非凡,大厅开放气派,包房私密豪华,无论商务公关宴请、朋友把酒言欢、或家庭团聚所需仪式感,这里都能给您完美舒畅、尊贵难忘的用餐体验。

二楼延飨美食营业时间:10:00-21:30 预订电话:0731-8883 3337

Yanxiang cuisine is a catering brand under Yannian hotel group. It is managed by famous chefs, upholding the spirit of ingenuity, inheriting the essence of Hunan cuisine, integrating the classics of Guangdong cuisine and Huaiyang cuisine, and constantly developing and innovating. It has created a series of popular delicacies and gradually precipitated a unique food culture. Savor Changsha on the tip of your tongue, and wish you a long aftertaste!
The first floor of the hotel is equipped with a full-time restaurant to enjoy delicious food, and the second floor is equipped with 17 luxury boxes to enjoy delicious food. The decoration environment is exquisite, the bearing is elegant and extraordinary, the hall is open and elegant, and the private rooms are private and luxurious. No matter whether it is a business public relations banquet, a friend's wine, or a family reunion, it can give you a perfect, comfortable, noble and unforgettable dining experience.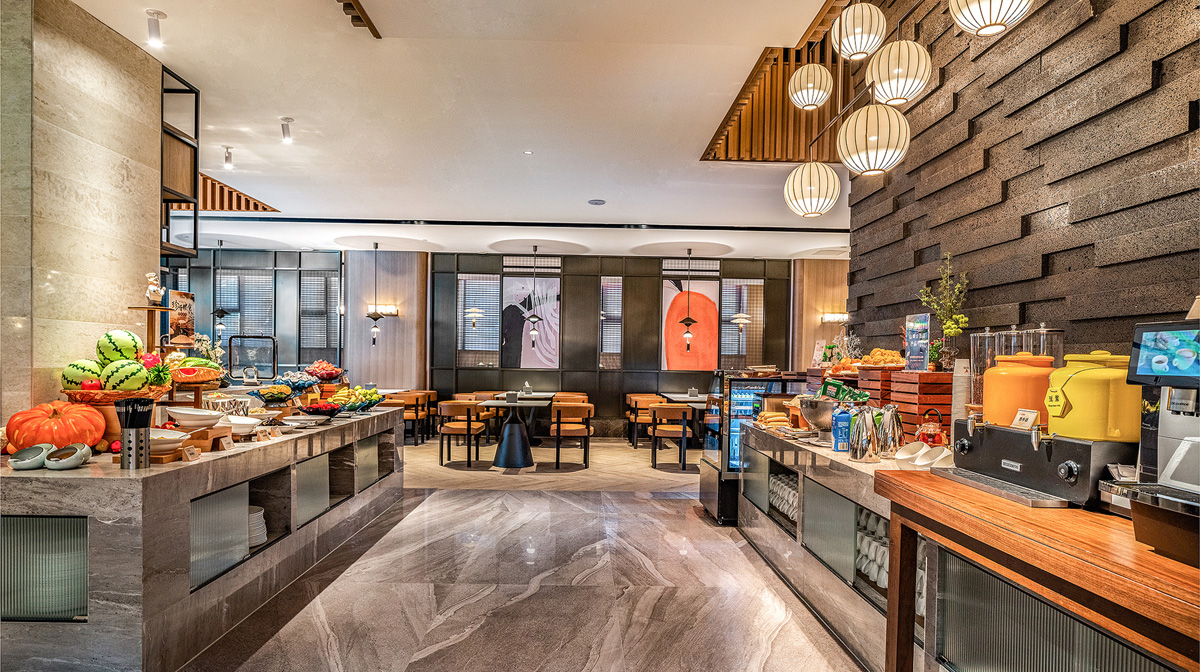 净心茗茶